​When you're first considering creating an online course, one factor many people are unsure about is how much it'll cost to do.

So, how much does it cost to create an online course? On a tight budget, you ​can create a professional looking online course for ​between $350 and $1,000. Factors that can ​impact ​the cost include equipment, software, hosting, ​and promotion.​
In this article you'll learn the different costs involved in making and selling ​an online course.
I'll ​show you what equipment, software, and third-party services you'll need to get your course completed and ​how much they each cost
How Much Does It Cost To Make An Online Course?
This is one of the more common questions that new content creators have when they're considering making and selling an online course.
​Thankfully, it's not as expensive as you might have first thought!
​I'm going to assume that you're on a pretty limited budget for creating your first online course.
That means you'll probably be creating the course entirely by yourself.
It's completely possible to hire freelancers, web designers, film makers, video editors and more to help with your project. But this could potentially add thousands of extra dollars on to the cost to make your course.
If you do have a bigger budget then I would highly recommend doing this as it will speed up the process a lot and enable you to get your course out there faster.

However, most people starting out don't always have this luxury, so for that reason I'll be focusing on more of a do-it-yourself approach for this article, so that it's useful for beginner course creators.
FREE VIDEO TRAINING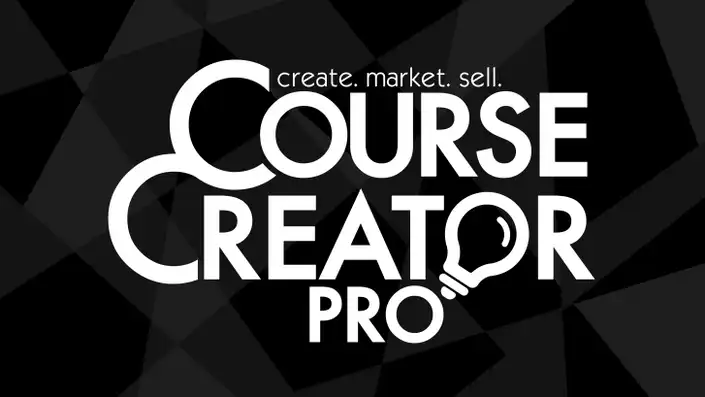 If you're careful with your spending, ​it's entirely possible to create a complete online course for under $1,000. ​Even for as low as a few hundred dollars!
What Will You Need To Create An Online Course?
I'm going to assume that you've already got access to a PC or a decent laptop that you can use. It's really a must-have for creating online courses.
But since over 85% of American households have a computer, I'm not going to factor it into the cost of creating your course.
​Recording Equipment
Here are some basic equipment and hardware you'll need to ​record your online course. It includes ​items like a microphone, webcam, and lighting.
1) Webcam - $​70
Webcams are pretty inexpensive nowadays. You can get a quality webcam that records in high definition for around $50.
Personally I'd recommend the Logitech HD Pro C920. It can capture video in full 1080p and it's what a lot of course creators use. It's pretty much the standard when comparing quality vs. price.
If you're on a budget you can pick up a cheaper model that only records video in 720p.
Which is still considered HD, but not quite as clear as 1080p.
But with the way online course platforms are going, I wouldn't be surprised if some require 1080p video as a minimum within the next couple of years.
2) Microphone - $​50
Most webcams will have built-in microphones, including the one I suggested above.
Your webcam's microphone is perfectly fine for Skype calls and at a push could be used to record your online course, but to be honest the sound quality isn​'t going to be great.
​If you want to improve the quality of your courses​ and have decent sound, you ​should invest ​in a dedicated microphone.
There are ​a number of ​​decent quality options available from around $​50.
Microphones come in all different styles, from ones that come with a stand and sit on your desk to lapel microphones that clip on to your clothing.
If you're recording yourself speaking whilst sharing your screen (i.e. in a presentation/lesson/webinar style), then get a microphone that connects to your computer through a USB connection​.
The Blue Snowball Ice is a good quality and very affordable choice for this that I have used and would highly recommend to those on a budget ($50).
The Rode Podcaster is a step up in terms of quality and sound and is an ideal option for those with a higher budget who want top quality production output ($230).
Optional accessories for these type of microphones include a pop filter (which prevents popping noises in your recording when you say hard consonants like Ps and Ts) and an adjustable microphone arm stand to hold your microphone. Each costs about $10 on Amazon.

​If you're recording an in person video behind the camera lens then you'll want a lavalier microphone (sometimes called a lapel mic). These have a jack end which plugs into your camera (or phone if you're using that to film).
Here's a good budget option ($25) and here's a higher end option ($78)
3) Lighting - $30
Investing in lighting might seem like an unnecessary expense. But unless you'll be recording during the day and have access to a room with plenty of natural light, you'll want some kind of studio lighting to make sure your videos are bright and clear.
Whole lighting setups cost around $100, but you can get an 8" ring light for around $30 ansd this will work fine if you're recording head shots on your webcam.
If you're on a really tight budget, you can always re-purpose a lamp that you've already got in your house.
Good lighting will take your video content to a whole other level.
If you're filming in person videos indoors then you'll need to look at a bigger lighting setup with a ​softbox​ lighting kit like this ($70)

Software - $0 - $100
When it comes to software you'll need to create your online course, the good news is that there's plenty of free or ​inexpensive options.
1) Text editor
​If you're making mostly text-based courses, Google Docs and Google Drive are great.
You can sync your files across multiple devices automatically, plus export your finished work as a PDF format.
PDFs are optimal for creating documentation, workbooks, and cheat sheets for students to download.
2) Recording video
​For recording video you can use OBS (Open Broadcast Software) Studio. This is a software normally used for streaming video so not many online course creators might know about it, but it's also great for recording video offline too.
​If you're recording your screen the standard software to use is Camtasi​a for PCs or Screenflow for Mac's. ​

3) Editing video
​For editing video ​you can use Lightworks. It's completely free but includes many of the features of more expensive editing programs like Adobe Premiere.
Certainly enough for a beginner. You can also do editting in Camtasia and Screenflow if you're using either of these.
4) Images
For editing images ​​you can use GIMP (Gnu Image Manipulation Program), which is a free open-source program that's comparable to Photoshop. You could also use Canva which is free as well.
Online Course Hosting - $250/year
Once you've made your content, it needs somewhere to live online where people can access it. You'll need hosting whether you've got a video course or just a text-based one.
The type of hosting you go for depends on your online course platform choice. If you create your course on your own WordPress website then you'll need your own web and video hosting.
If you create it on an online course platform like Teachable or Kajabi then you just pay for that and video and web hosting is part of the many other features you get.

1) Video hosting
There are a bunch of options when it comes to hosting video. ​​​​
Youtube is free, but it's hard to completely make access to your videos and playlists private. You can make them only accessible with a private link, but if a member of your course posts that link online, anyone will be able to access your course for free.
Vimeo is one of the cheaper video hosting plans, starting at $7 per month if billed annually. At this rate you get 5 GB of video per week, or 250 GB of uploaded video per year.
This might be okay for a smaller course, but you'll likely exceed it and need to get one of their most expensive plans at some point.
Their Business plan has no weekly limits and allows 8 TB of stored video, but it also costs $50 per month which is probably too much for most beginner course creators.
Highly Recommended
Teachable
​Teachable is one of our favorite all-round platforms for creating & selling beautiful online courses. Transform your experience and know-how into a thriving knowledge business. ​
There are plenty of other video hosting websites out there you should consider. Some charge based on the number of videos uploaded, while others charge based on the amount bandwidth that your videos use.
You'll have to compare some numbers and see what makes the most sense for your business.
2) Web hosting
In addition to hosting your videos somewhere, you'll need to create a website where people can buy your course and log in to your membership portal.
You'll need to buy a domain for around $10.
You can ​use shared hosting from a website host like ​​​Siteground at first until your site is getting thousands of views per day. They usually have introductory pricing as low as $3 per month for the first year, and then renew at about $12 per month for an entry-level plan.
You might want to buy a premium theme for your website, which will be a one-time cost of about $50. Or you can make do with one of the many free website themes out there.
3) All-in-one solutions
Instead of piecing together a video and web hosting solution yourself, you might just want to pay a fee to have your course delivered using an online course platform like Teachable, Thinkfic or Kajabi..
​Teachable offers a free plan ​that includes web and video hosting, payment processing, and customer support, or you may need to upgrade to paid plans to get all the features you need. Paid plans start at around $350/year.
Email Marketing- $0 - $250/year
Email marketing ​is an important part of your online course marketing.
If you've already got a following, you can use email marketing to let your existing audience know when you release a course.
Or you can collect emails of current students to let them know when your next course is available.
The cheapest email marketing option to start with is a free MailChimp account. Their free plan includes up to 2,000 email subscribers and 12,000 emails you can send per month.
However if you're serious about your online courses, I'd consider using a more premium email marketing service like ​Convertkit where you can pay a monthly fee based on your number of subscribers as your email list grows (read more here about why I recommend Convertkit for online courses).
Advertising - $0 - $100/month
How much you spend on this depends on a lot of factors - in particular whether you already have an audience or traffic already or not.
If so, you may not need to spend anything on advertising to begin with. Just engage with your audience using email or on your website/YouTube channel.
If you don​'t already have much of a following you could consider running ads to start building your audience.
I'd recommend starting with Facebook ads. They're inexpensive and very flexible. You can target people you want to see your ads based on their interests, demographics, and other factors.
Plus you can set an advertising campaign for any amount, even as low as $5.
I recommend starting small and perfecting your ads. Experiment a bit and find the images and text that best catches people's attention and converts into sales. Take inspiration from other popular ads you see.
Once you've got a successful ad campaign that consistently earns you more money in course sales than the advertising costs, all you need to do is ramp up your advertising budget and your sales should continue to increase.
Total Cost To Create And Operate Your Course For The First Year: $350 - $1,000+
​The good news is that once you've created one course, a lot of the resources you've paid for can also be re-used to create a second site.
You'll already have all your equipment like a webcam, microphone, etc. As well as hosting and an email list.
Creative Ways To Stretch Your Budget
I know that for someone who is still in school or working a part time job, even investing just a few hundred dollars in creating your course can seem like a lot to ask. Here are a few ways to you can cut the cost of creating your first online course even further.
1) Use Your Phone
You don't have money to buy a webcam. Maybe you don't even have a computer you can use to create your website.
If you've got a smartphone, you might have everything you need to create a course right in your pocket.
Most modern smartphones can shoot high quality video and photos. So theoretically you could create your entire online video course using just your phone.
You might even be able to set up your website entirely from your phone. I imagine it won't be the easiest process, but if you have lots of time and not so much money, it might be a good option.
iPhones in particular have great video capabilities and are more than good enough to record your online course content.
2) Free Promotion
If you can't afford to pay for Facebook ads or Google Adwords, you can try to get some free promotion.
Posting on Reddit and forums is one way to get links to your course out there. Just make sure you're not too spammy about it.
You can also create a Youtube channel and give a bit of information away for free, and then link to your course for viewers who want to learn more. The benefit of this is that you can build a loyal following for free doing this as well.
Blogging and SEO (search engine optimization) are a couple other fantastic ways to get people to your website and viewing your online courses.
If you have the extra time to write a few helpful blog posts, you'll dramatically increase the amount of traffic to your website.
In fact, blogging might be one of the most effective ways to promote your course for free. You won't see overnight results from blogging and SEO, but it will create a strong foundation and consistent viewers in the future.
-> Read my in depth guide to selling online courses using SEO

How To Price Your Online Course
Having a budget for creating your course in the first place is really important. But correctly pricing your course is just as critical to make sure that you can recover those expenses quickly.
As a general rule, I'd recommend pricing most courses for at least $100.
That way you'll be able to recover the costs of creating your course quite quickly, even if you need to pay $10 or more in advertising costs for each new lead.
Even if you're not an expert in the subject matter or it's something that people could just Google and learn themselves with enough work.
Your time and skills are valuable. Don't undervalue your content, or yourself for that matter!
Don't worry if someone is already selling a similar course for less. Trying to compete on price often ends up being a race to the bottom. You can be successful at a higher price point, as long as your course offers more or is unique in some way.
It might seem like a bit much to expect complete strangers to pay $100 for your course.
That's why it's important to build an audience first. Whether that's a Youtube channel, a mailing list, or by offering some other form of free content to them first.
You want to warm up potential students and make them feel like you've already delivered real value to them, then they'll more often than not be willing to pay for your premium courses and services.
HIGHLY RECOMMENDED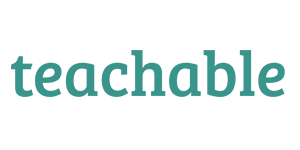 Create and sell beautiful online courses
Flexible & low cost pricing options
Simple to get started with
Comprehensive knowledge base articles
no, thanks
Teachable
 is the easiest way to
create
and
sell
 online courses
Related Questions
What are some other online course cost factors?
​What kind of course media will you be using?
​How much content will you need to make?
​Can I deduct online course costs on my taxes?