​​Pinterest can be an excellent way to drive extra traffic to your website and help you ​with marke​ting your online course.
However, you need to follow the right steps to ensure success. Linking users directly to your course sales page won't be as effective as creating an online course sales funnel ​​with an email sequence.
​Most Pinterest guides you'll find online are thinly-veiled advertisements to sell you software and plugins to make posting to Pinterest easier. That's not what this article is about.
Here we're​ going to give you some ​straightforward ​information to get you started on Pinterest and using it to ​market and sell your online course.
​Why Is Pinterest Important?
Pinterest is an awesome marketing platform that many online course creators are either under-utilizing, or simply not using at all.
Creating pins on the site is simple and very effective.
Unlike Twitter or Facebook where your post can be gone from your audience's feed in a matter of hours, advertising on Pinterest stands the test of time and only seems to get better the older your posts are.
It's quite common to be still getting traffic from a pin you made a year ago, and in fact viral pins might be the top traffic source for your website.
This is because, like Google and YouTube, Pinterest works as a search engine.
​If you're interested in learning more about the power of search engines to drive course sales then​ check out my guide to using SEO to sell online courses or my guide to selling more course using Youtube.
People actively search for topics on ​all three of these platforms, and with Pinterest the combination of actively engaged users, and visual images to entice them through to your site is very powerful.
Pinterest isn't just for posting crafts and tips for stay at home moms though.
People in every niche are using Pinterest nowadays, even guys posting about "manly" topics like wood cutting and making a campfire.
Pinterest users aren't just looking for inspiring quotes or recipes to try.
Many of them would also love to buy your online course, if only they knew about it.
So now is your chance to reach them.
Step 1: Setting Up Your Pinterest Account
Before we get started, we need to look at the absolute basics.
FREE VIDEO TRAINING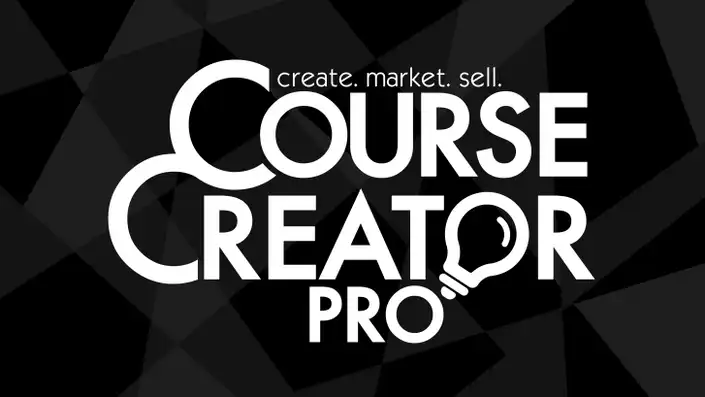 If you haven't created a Pinterest account yet, you'll need to do that. You can skip past this step if you've already got an account.
I'll walk you through how to make your profile look real and engaging, not like it's run by a bot.
I'm assuming that you've already signed up for other platforms like Facebook and don't need to be walked through the signup process step by step.
They'll ask you all the usual stuff like entering your email, choosing a username and password, etc.
One thing that I would highly encourage is to sign up for a business account though.
A Pinterest business account is still free, but it gives you access to a lot of bonus features that aren't available to regular users with a personal account.
Namely analytics that allow you to look at the stats of how your pins are performing, and the ability to pay for advertising if you want to.
1) Your Display Name
​When you choose your Pinterest display name, don't just put the name of your business or website in it.
Add some descriptive words to the end that people might search for. If your course is about playing the guitar and your website is called GuitarJamz, make your Pinterest display name "GuitarJamz | Learn How To Play Guitar" or something similar.
That way your display name doubles as some free SEO (search engine optimization) and will show up when people search on the site for how to play guitar.
Basically it's one more thing that makes your Pinterest profile more searchable.
​2) Your Profile Picture
People on Pinterest prefer to feel like they're interacting with a real human being. So skip an image of your company's logo, and put a clear and professional looking picture of yourself.
People will feel way more connected when they can see an actual person behind the account, instead of just a faceless business.
Try to make your image clearly express what you're all about. If you sell online courses about fishing, use a profile picture of yourself fishing or at least holding a rod.
If you sell online courses about creative writing, have a picture of yourself deep in thought writing in a notebook.
People's eyes are naturally drawn to color, so add some bright colors to make your profile picture really pop and stand out. People will be way more likely to click and see what you're all about.
4) Your Profile's "About Me" Section
This is another place to get in some free SEO. Tell people what you're all about. Give people who view your profile a call to action, and tell them what benefits they'll receive.
For example:
"I help people learn how to fish better. If you're interested in learning how to land the big one, check out my courses at fishclassextreme.com."

5) Featured Boards​
You get to choose which boards people will see first. You want to make the first boards people see the ones that show off your product and will bring traffic to your online course sales pages.
It's best to have one board that only features your own content, and make that the first item on your list. You'll still have room for four other boards as well, where you can share whatever you like.
So if you make online courses about dog training, you'll want your first board to be called something like "Dog training" with links to your course and your own blog. Then you can have additional boards where you pin other content related to dog training from other Pinterest users.
By putting your own content first, you maximize the chance that people will see your posts and click through to your course.
Now you've got the basics set up and you're ready to start pinning!
Step 2: Selling Courses On Pinterest
Pinterest is a bit unique compared to other platforms, so you need to approach it in a specific way to make your attempts to sell your course work out successfully.
1) It takes time
The first thing to note about Pinterest is that it takes time. When you post something on Twitter or Facebook, it gets an almost instant response. That isn't the case with Pinterest.
That's not necessarily a bad thing. Remember that Pinterest posts often continue to generate traffic to your site for months or years, so it's well worth it. Where other social media platforms allow you to make a quick buck, Pinterest is more like planting a seed for something that you'll continue to reap from for a long time.
Expect it to take at least a week or two before your pins will start to get any traffic. So don't feel discouraged if it's been a few days and you haven't seen any increase in sales because of your activity on Pinterest. You might not even see people clicking through your pins at first.
2) Be consistent
Since it takes some time for Pinterest to start working, you want to be consistent with it.
It doesn't have to be a lot. Set aside 10 to 20 minutes one day each week to add new posts to your Pinterest boards to make sure you've got fresh content.
4) Be generous
You don't need to make all of the content for your pins by yourself. Pinterest's algorithms prefer users who pin content from other users as well. It actually seems a bit suspicious if all of your pins are linking out to just one website. So don't be afraid to pin other good articles you read.
5) You need to warm up your leads
People on Pinterest are more likely to be looking for free content and might be hesitant about paying for it. So you won't be able to link directly to your course sales page and expect the new students to start flooding in.
You'll need to create a bit of a Pinterest mini sales funnel to warm up potential leads and get them interested in your course.
6) Link to blog posts
How do you warm up your Pinterest leads?
I'd recommend starting off with some blog posts. Instead of linking straight to your sales page, give Pinterest readers some great free information in the form of a blog post. Just make sure it's still closely related to your course topic.
So if you have a course about dog training, you might make a blog post with five simple tricks that people can teach their dog like sitting, shaking a paw, etc.
They'll have some great information that they can start using right away. But they still won't be able to get their dog to stop barking at the mailman or chewing on their favorite pair of shoes. At least not until they take your online course.
That's where we add in a call to action. Somewhere in your blog post, you want to make a clear call to action that drives readers to the sales page for your online course.
It can be as simple as a request like "check out my dog training course!" or "ready to learn some more advanced dog training techniques? Check out my online course" with a link to your sales page.
It's a good idea to slip one brief call to action into the first half of your blog post, just in case some people are interested in your course right away or don't read all the way to the end.
And then I'd add a more detailed call to action at the very end of your post.
Something like "once your dog knows how to sit, you'll probably want to teach it how to stay and lay down as well.
My online course will teach you how to do that, and many other essential commands that will let you effectively communicate with your dog."
Step 3: Making Awesome Looking Pinterest Graphics
Once you've made a great blog post that will lead people down a sales funnel to buying your course, it's time to make some eye candy to initially catch their attention on Pinterest.
Making your pins is the most time-consuming part of the whole Pinterest process. But the quality of your pins is the main factor that determines how many clicks and what level of engagement you'll get from Pinterest users.
Not a graphic designer? Don't stress. I'm not an artist by any means, but I can teach you how to make some awesome looking Pinterest graphics that will really catch people's attention.
I like to design my pins using a website called Canva.
It's a great way to make professional looking graphics of any type for free. I use it to make Pinterest posts, Instagram and Facebook posts, featured images for my blogs, infographics, and much more.
It also takes a lot of the guesswork out of making your graphics, because it will automatically make images at the optimum dimensions for Pinterest.
There are hundreds of pre-made templates that you can take inspiration from. You can customize them with your own images, or even just change the text and post them as they are.
If you're comfortable with making your own graphics, you can always use PhotoShop to make images too. Here are some details to keep in mind:
1) Image Ratio
​2:3 is an ideal ratio for Pinterest images.
Long, vertical images do best on the site. So make your image something like 600x900 or 736x1102 pixels if you're doing it yourself.
You can make your ratio up to 1:2.8 if you'd like. Don't make images taller than 1560 pixels though or some of the image will get cut off when you post it to Pinterest.
2) Text
You want some text on your pins to tell people what they're all about. Pins with text on them get saved and repinned about 30% more than those without.
But adding too much text can make your images look too busy, so it's a fine balancing act.
80% of Pinterest users access the app on their mobile devices, so making sure that your images will look great and be readable even on a small screen is key.
It's fine if your text is huge and takes up the whole pin, and your image acts more like a background to display the text on.
3) Make it eye-catching
Use bright colors and contrast to make your pins stand out.
It's unlikely that your pins will be the first result in a search, so you'll want something that immediately pulls a viewer's attention and gets them to click.
4) Try different options
I'd recommend making three or four different graphics for each blog post that you make.
That way you can try different styles and aesthetics to see what attracts your audience's attention best, and which pins convert the best into sales.
5) Use high-quality photos
You can either use your own photos or free stock photos, but make sure they look good and will capture people's attention.

​Step 4: Adding Your Pins
Now you've got a great looking image and somewhere to link it to. But how do you pin it where people will actually see it?
Your own board
Earlier you should've set up a board of your own that focuses on the main keyword associated with your course, and made it one of your featured boards.
Now you want to pin your image to your board. Click the Create Pin Or Ad icon on the top menu. Upload your image, and pick your board. Add a link to your blog post in the Website/URL field.
The last and probably most important step is to add a description.
This is a huge SEO opportunity, so don't be afraid to write several sentences of relevant information.
Tell people all about your blog post and what they'll learn from it, almost like a snippet or meta-description you'd write for Google. Include all the big related keywords that you think people might search for.
Highly Recommended
Teachable
​Teachable is one of our favorite all-round platforms for creating & selling beautiful online courses. Transform your experience and know-how into a thriving knowledge business. ​
You can also add hashtags to your pin descriptions, which is a pretty underutilized feature. Basically just turn all your main keywords into hashtags.
So if your course is about guitar lessons, add hashtags like #guitar #guitarlessons #learntoplayguitar #easyguitarlessons #guitarchords #guitarforbeginners etc.
​Make sure that you give a clear call to action to readers, like "click through to read the full post!"
​Group boards
Pinterest group boards are boards where multiple users collaborate and post. They can be hard to join, but once you get in they can generate some massive traffic for your pins.
There's no easy way to search for only group boards, but you can find them in regular searches. Look for boards that are related to your topic, and the group boards will be the ones where there's a little circle at the bottom left of the pin with three different user icons in it.
Before you can post to a group board, you'll need to get added to it. Usually there will be instructions in the description of the board that tells you how to join. If not, send a private message or email to the board creator asking to be added.
Each group board has their own set of rules, and it's important that you follow them. If you break the group rules you might get kicked out of the group.
Some groups will only allow you to post one new pin per day, others require you to repin 2 pins for each pin you post yourself, etc. Respect the rules and you should be fine.
Group boards will usually have other people in your niche, or even industry experts or influencers.
So it's a great way to get visibility for your site and online course to lots of other people interested in your topic.
If you're having trouble finding a group board in your niche, you can always make your own and allow other contributors to come post.
You'll be dividing some of the attention to your board with other people, but overall it should result in a lot more traffic for you.
Step 5: Promoting your pins
​This step is optional, but if you've got an advertising budget you can use promoted pins to give yourself a bit of a boost and accelerate your Pinterest progress.
Start by setting yourself a budget of how much you want to spend.
Next you'll need to decide where you want your pins to show up. They can be on the home page, in search results, or both.
Pinterest will ask you to set up an audience in the next step. Here you can target different types of visitors, or specific keywords. Pick the kinds of people and interests that relate to your online course.
Next you'll need to pick your pin.
You can either put all of your budget into a single pin that you've already had success with on your own board, or split your advertising funds between three or four different pins to A/B test and see which one works the best.
The last step is to put in your payment information and then your promoted pins will be good to go.
Step ​6: Tracking Your Progress
At the beginning of this article, I said that you should sign up for a business account on Pinterest in lieu of a personal one.
Tracking your progress is a big reason for that. A personal account doesn't give you access to the analytics features of Pinterest.
If you accidentally made a personal account, don't worry. You can easily go into your account settings and upgrade to a business account at any time.
Tracking how your pins are performing will show you exactly what's working and what isn't. You can make two different pins for one blog post and see which one is performing better.
Then you can evaluate why, and use that information to produce better performing pins in the future. As you experiment, you'll eventually come up with your own winning formula that maximizes clicks and repins.
Step ​7: Building An Audience On Pinterest
A great way to build up your followers is similar to what you'd do on other social media platforms like Twitter or Instagram. Follow other users, and many of them will follow you back.
Start off by searching for boards in your niche. Then pick one of the most popular ones, and go to the profile of the Pinterest user who runs that board.
I just go through their list of followers and follow a bunch of people.
Since everyone following that person is already part of your niche, you've got a list of ideal students for your online course in front of you.
Pinterest will let you follow hundreds of people per day, although I'd avoid exceeding 200 follows at one time or you might get flagged as a spammer.
You can always come back and follow 10-20 more people each day to make it look more natural.
You'd be surprised how effective this is. You can build up hundreds of followers and thousands of monthly profile views in no time.
Step ​8: Connect with Your Other Social Media Platforms
If you've already got an audience on another platform, you don't have to start from scratch when you're making a new Pinterest account.
You can connect your Pinterest account to your Facebook and Twitter accounts.
To connect your Facebook and Twitter accounts, go into your Pinterest account settings to the social networks section. Then just go through the basic steps to connect your Twitter and Facebook accounts.
One downside is that you can only connect personal Facebook accounts to your Pinterest, not a page. So if your business only has a Facebook page, you won't be able to connect.
If you've got an email list, you can also share pins with your newsletter. Instead of trying to get random people to find your pins, you can send your existing audience straight to them.
You can just throw in some subtle links in your newsletter outlining your most popular pins for the week, and adding a call to action to get people to head over to your Pinterest account for more.
​What Are The Best Times to Pin on Pinterest?
It depends on your target audience, so it's a good idea to test a few different posting times and see what works best for you.
According to SocialFresh, the best times to post are between 2 – 4 PM EST and 8 PM – 1 AM EST.
But Saturday morning is the single best time to post according to HubSpot. So really there are some varied opinions.
I'd use some basic reasoning to determine what time is best for you. If your target audience is ravers who are up partying late into the night, then posting your pins bright and early at 7 am probably isn't the best choice.
We know some basic facts about social media usage that we can use to our advantage though.
Lots of people look at social media while at work. Specifically more in the afternoon, and especially Friday afternoons when they're just waiting for the weekend.
So think about times when you were least productive at work yourself, and consider pinning at those times.
You should avoid times that people are usually busy.
That includes in the morning from 7 – 9 AM when people are rushing to get busy for work, and 5 – 6 PM when people are on their commute home from work or busy making dinner.
If your target audience includes a lot of parents, you might also want to avoid times that they would be picking up their kids from school.
In short, posting in the afternoon or evening, or on weekends, is best for most niches.
Of course, if you're not super-worried about optimizing for Pinterest, you can just post whenever you want to. Remember that Pinterest is more of a long-term platform anyway.
So while pinning at optimal times might get you a bit more initial traction, it won't make or break the traffic that your pins will generate in the long term.
​Step ​​9: Add Save Buttons On Your Website
People are going to come to your blog from Pinterest, but you can direct blog and website visitors from your site back to Pinterest too.
Make it easy for your site visitors to pin content on their own Pinterest boards.
You can add a Pin It button that will hover over any image on your site by using a Pinterest plugin in WordPress.
It's a simple way to integrate your website with Pinterest in a couple minutes. That way people can check out your Pinterest account or pin your content to their own accounts.
If you want people to take action and share your online course, you have to give them an easy way to do it!
If you don't want a Pin It button to hover over every image on your site, you can make it only appear on mouseover, or you can apply them only to specific images on your site.
​Step ​10: Don't Get Banned Off Of Pinterest
​​You can either use your own photos or free stock photos, but make sure they look good and will capture people's attention.
Pinterest's terms and conditions are pretty much what you'd expect from any social media platform, but there are a few things to avoid if you want to make sure you don't get yourself unexpectedly banned.
​You aren't allowed to promote spam. For example, you can't ask people viewing your pins to comment repeatedly. Just avoid being spammy in general to be safe.
You can't run promotions, sweepstakes, or contests "too often." Pinterest is very vague about what exactly "too often" means, which isn't very helpful. But I wouldn't do it more than once a week.
You can't suggest that Pinterest endorses or sponsors your business.
You can't run contests where each repin or like acts as an entry in the contest. You also can't ask users to vote by repinning or liking.
I've heard of users getting banned off Pinterest for seemingly random reasons.
​If you're super active, either pinning a lot of things or following a bunch of boards in a short period of time, it seems like it sometimes creates a red flag in Pinterest's algorithms and automatically bans you.
If this happens and you haven't violated any rules, you can contact Pinterest and they should unban you. But I'd suggest avoiding it in the first place by making your activity on Pinterest seem natural. It's better to visit Pinterest daily or every couple days and pin a few things at a time, rather than coming once every week or two and making dozens of pins at once.
​Using Pinterest To Increase Online Course Sales
Pinterest can be a great way to drive some extra visitors to your course sales page.
But Pinterest users aren't very likely to buy your course if you link right to your sales page.
​Instead, create an online course sales funnel by linking your pins to blog posts containing useful, actionable information.
Then add a call to action into your blog post that directs visitors to your online course or, much better; offer a free giveaway in exchange for them joining your email list.
From there you can engage with them, build trust and eduate them on the benefits of what your course ​is all about before pitching it more directly.
This will result in a much better conversion rate.
Used in this way, you can see that ​​Pinterest​ can be a great way to drive more traffic to your website, grow your email list and reach a bigger/wider audience of potential course customers.
It can be​ one of the elements of your course marketing strategy, bringing in new leads to your funnel.

​If you haven't finished creat​ing your online course yet, then you can also use Pinterest to gather ideas about popular ​online course topics.
Keep an eye open for popular pins that get a lot of shares or repins and work these topics into the structure of your online course.
You can also be building your email list with Pinterest traffic and validating your online course idea before you gear up to launch your course further down the line​.
Conclusion
​We've covered a lot of ground here, but by now you should be able to see that Pinterest can be used as a key component of your online course marketing.
If you view it as an organic search engine crossed with a social media platform you'll see that it can be very powerful at bringing relavent and engaged visitors to your website.
​Depending on the niche you're in, you may even find it easier to get traffic and email subscribers from Pinterest than from Google.
​Follow the steps in this guide and give it a go. If it works for you then consider h​iring someone to manage your Pinterest account so that you can work on other aspects of your online course business.