​Actually filming and recording ​your online course is a step that a lot of people fear.
They're concerned about technology issues, or not knowing how to create an online course that looks professional.
This article will help you with both these issues and more.

Before we get started on this though I want to say one thing for you to keep firmly in mind:
Keep It Simple And Get It Done!

​It's absolutely possible to make a great entry level online course in a relatively short space of time if you stay focused.

It's easy to get lost creating a course with too much detail – a common problem when you know a lot about a subject.
As I discussed in the previous article about how to structure your online course outline, you should deliver your course's one big outcome or transformation in a simple, clear and easy way, and in the shortest time possible.
As you're creating the course material, continue to ask yourself – is this particular bit vital to teaching the overall outcome.
If it's not, then discard. Don't make your course any longer or more complicated than it needs to be.
FREE VIDEO TRAINING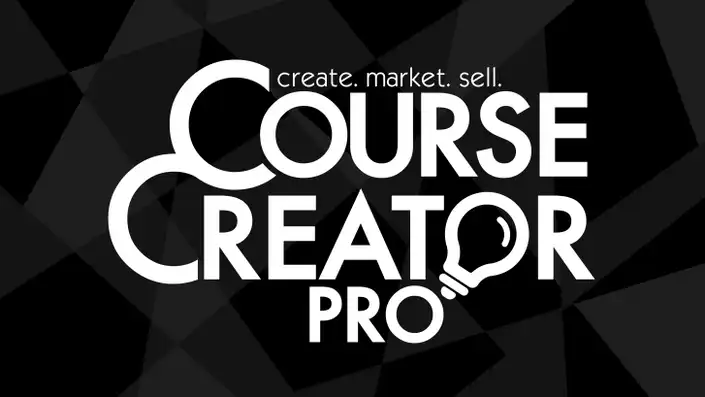 You are aiming for clarity, simplicity, structure; detail where it matters – all delivered with your own unique personality, knowledge and experience to back it up.
Ok, so with that all firmly in mind, how do you actually create your course?
How To ​Film Online Course Videos
The core output of your course creation should be a set of videos.
The reason for this is simple: video is a great medium for learning - it's the closest thing to learning in person.
This doesn't necessarily mean that you've got to stand there in front of a camera and film yourself teaching the course like you would in a live zoom class (although for some people this might be how you want to do it).
There are two basic approaches here and which one you should take comes down to what you're teaching:
---
Option 1: PowerPoint/Keynote & Voice over
This will work for most people, especially if you are teaching knowledge or concept-based information. It's a simple, cheap and quick way to make a good quality course.
1) You make a PowerPoint or Keynote presentation for each module
2) Play the slideshow on your computer and talk over the top of the slides as you go – as if you are giving the lesson for that module
3) Use a good microphone (see recommended tools) combined with some screen capture software (Camtasia for PC, ScreenFlow for Mac) to record your slides & voice
4) The software will then produce a video file as the output for each lesson of your course, which is then uploaded to whichever online course platform you use.
If this sounds complicated, don't worry it isn't - there are free demos at the following links showing how to use both Camtasia and ScreenFlow.
And you can check out this video on How To Make Video Tutorials as well:


​If you're unsure about making nice looking slides, there are plenty of tips about how to make good PowerPoint and Keynote slides out there on the internet.

Check this set of slides out for starters.

This way of recording your course is quite simple and intuitive - you don't even need a camera and you don't need to film yourself if you don't want.
Just focus on delivering great course content and you can have it made relatively fast.
Option ​2: ​Film Yourself Using A Camera or Phone
This is more suitable if you are teaching a practical technique and need to show it in the flesh, for example if you're teaching something like cooking techniques, yoga or art.
It's also used ​if you ​want to place yourself front and centre as the teacher, and deliver the lesson yourself on camera.

To make sure your videos look good like this, you'll probably need to either​:
pay a film maker for a few days' of work​ to do the filming
or get/use a camera and ​film it yourself ​
​Hiring a local film maker to help is definitely the quickest and easiest way to get your videos made and chances are that they'll be able to do the editting as well.
If you have the budget, then this could be a good way to do it.
If you are on a lower budget, you're probably going to end up doing it yourself.
The good news is it's not nearly as difficult as you might first think. I learnt to do it just through having a go, and had pretty good results straight off the bat.
​Although lighting, camera angles and backgrounds are important, the actual camera you use doesn​'t need to be super expensive.

You can make pretty good quality videos on your smartphone even.
Check out this YouTube video tutorial showing how to film and edit videos on a smartphone:
---
You can, of course, mix and match these two broad approaches to creating your course by making and then embedding some short film clips into your PowerPoint/Keynote presentations.
That's what we did with our mushroom growing course and it's quite simple to do.
We paid a local film maker for ​3 days of his time to film and edit some particular practical techniques and then ​recorded a number of more theoretical lessons with slides to accompany.
Highly Recommended
Teachable
​Teachable is one of our favorite all-round platforms for creating & selling beautiful online courses. Transform your experience and know-how into a thriving knowledge business. ​
Keep Each Video Short
​The average attention span of an adult is just 8 seconds, and while the people who join your course will stay focused on your lessons for longer than that, it's really important to keep each video lesson short and shard to keep people engaged.

​Ideally, no individual lesson should be longer than around 20 minutes. If it is, you should split it up into separate lessons.
Depending on your course content, you should be able to make most lessons between 5-10 minutes long.
If you do this your students will thank you for and be much more engaged in your course.
Sure, you might end up with quite a few lessons for each module, but this can actually help to create structure in your course.
It will ​​make it easier for your students to work their way through it and come back to find particular parts again at a later date.
It also makes it easier for you to feel like you're making progress as you record each lesson.

Editing Your Online Course
Videos
A large part of the process for creating your online course will consist of a number of hours editing whatever material you record.
You can do this is Camtasia or Screenflow before producing the final video files.
Again there are tutorials out there about how to do this or you could even consider outsourcing the process to a freelancer from your local community, or online from somewhere like Upwork.com.
The main thing you'll need to do is cut out any long pauses, mistakes or ummms and errrs so that the final videos flow well.
You can also add in bits you may have missed the first time around by re-recording and then splicing these bits in.
It's incredibly important to make sure you actually just get the editing done and produce the final videos that make up your course.
It's tempting to keep editing over and over and trying to perfect everything. Remember that people want to learn from you and your individual style is part of that.
It doesn't need to be absolutely perfect - it's completely fine to be a little rough round the edges..especially if it's a starter course you're making.
Editing can take up quite a bit of time, so if you're feeling stretched this is a good task to outsource.

Filming & Editing
TECHNOLOGY RECOMMENDATIONS

---
How To Avoid Overwhelm When Recording Your Course

I hope this ​article doesn't leave you feeling overwhelmed.
There's no doubt that it requires work and some investment to carry out, and it can seem like a huge task.
But, really, it's not rocket science. It's something almost anyone could learn to do with a little time and effort.
Don't get too bogged down worrying about how exactly it all works or thinking you're not capable.
Just know that you can do it. Or hire some help to get it done.
And take things one step at a time.
It's important to build momentum and complete the process in small stages.
Bit by bit, it comes together, and then all of a sudden you'll realise the work is done.
You have an online course ready to ​launch!
The next step once you have this is choosing your online course platform.

HIGHLY RECOMMENDED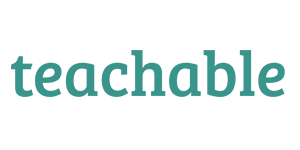 Create and sell beautiful online courses
Flexible & low cost pricing options
Simple to get started with
Comprehensive knowledge base articles
no, thanks
Teachable
 is the easiest way to
create
and
sell
 online courses