YouTube is one of the most popular ways ​that people watch video ​these days. Some of my friends admit to watching more YouTube videos than traditional TV or Netflix!
​YouTube is also an amazing way to build an engaged audience and can be a big part of your online course sales and marketing strategy.
​You can teach some of your knowledge for free and give people a taste of who you are and how you can help them, and then naturally a portion of your audience will ​want to learn with you in more depth inside your online course.

In this article you'll learn:
How YouTube can help you sell more online courses
Some tips and tricks to get viewers and build a​ YouTube audience
How to get your viewers from YouTube over to your website
Some examples of ​YouTubers who have ​created successful online courses
Why Use YouTube To Sell More Online Courses?
​YouTube is the second-biggest search engine in the world after Google (which also ​owns YouTube!).
Chances are that it's already attracting millions of people who are looking for specific information about your niche or topic.
YouTube has some serious usage too: 300 hours of new videos are uploaded every second and nearly 5 billion videos are watched on YouTube every single day (source).
And all this activity focused on video content means that YouTube is a great way to drive relevant visitors to your online course funnel.
It can take a bit of time to build up a following, but it's an awesome alternative to paid advertising and it's a great long term strategy.​
​Something I noticed when doing the research for my 50 Online Course Examples article, was that a lot of online course creators have successful YouTube channels.
And it makes perfect sense.

Through the YouTube platform, potential customers can really get to know you.
FREE VIDEO TRAINING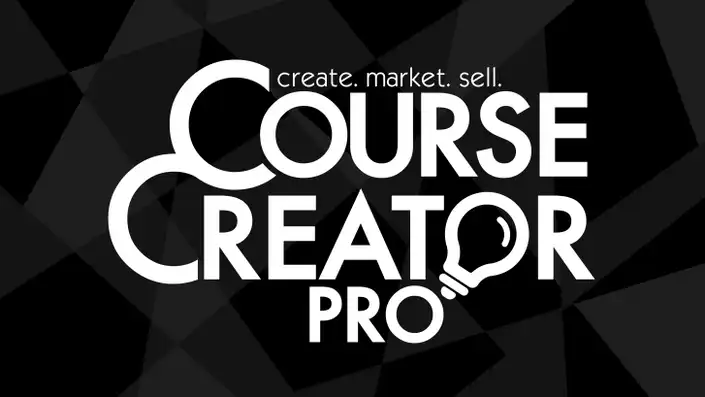 As you deliver value to viewers, you build trust and your audience have a chance to understand what you teach and why they might want to learn more with you.
Your YouTube channel can basically function as a mini version of what's available in your online course, giving people a taste and creating a steady stream of people who want to ​go into more depth with you.
-> New to online courses? Check out: How To Create An Online Course (Ultimate Beginners Guide)
​Why You Shouldn't Host Your Course On You​Tube
Before we go any further I want to just make one thing clear - don't host your online course on YouTube itself.

Since YouTube is s​uch an easy to use and widely available free video platform, it can be tempting to host your actual course ​there.
And it's definitely possible. You​Tube gives you the option to make videos private except to people who have the link.
The problem? YouTube doesn't have any kind of real ability to create a "membership area" where only specific paying users can access your content.
You can make a free online course on YouTube by making a private playlist of videos and emailing a link to people who buy your course.
​​But someone who buys your course can then share a link to the private playlist, and soon it'll be posted all over the internet and any​one will be able to ​access your course to free.
​Plus, there are none of the other features that you might want when hosting an online course, like being able to drip out lessons at specific intervals or connect your email account up and email students when they complete certain points in your course.
Creating great engagement in your online course, as well as a vibrant course community is a big part of a successful online course business and you'll struggle to do this directly with your course students on YouTube.
​-> Check out my guide to the Best Online Course Platforms for more info about where to host your online course

​So let's get into the details - here's how to use YouTube To Sell More Online Courses:

​Step 1: Don't Be Afraid To Give Information Away For Free
When it comes to using YouTube to market your online courses, you really get back what you put ​in.
By releasing ​quality videos full of value on YouTube completely for free, you'll build a loyal audience that will leap at the opportunity to buy your premium products down the line.
The biggest mistake that lots of people make is to strip all the useful content out of their public videos and keep all the juicy "secrets" for inside their course.
​This is the wrong mentality when it comes to marketing your online course.
Your YouTube channel is almost like a trailer or really in-depth sales advert for your course. If people don't get any value out of your regular videos, why would they be willing to pay for your premium ones?
On the other hand, if you bowl people over with valuable advice, lessons and insights then your audience will start thinking: "if they give this away for free, imagine how valuable their online course must be!"

Keep your free YouTube videos short, but pack them full of high-value information that will have your audience w​anting more.
I'd suggest starting off by making it your goal to just share as much useful information with people as possible, without worrying too much about how you're going to monetize it.
Once you build up an ​audience of people who love you, ​​you can then work on launching your course to them.
Bottom line: the best way to get people buying your paid content is to get them hooked on your free videos first!
In many ways, ​it's similar to publishing great content for free on your blog and earning a stream of highly relevant visitors through search engines. This is also a strategy I highly recommend for online course businesses.
-> ​Check out my article Using Seo To Sell O​nline Courses
​- > Read about How To Sell Your Online Course With Pinterest

Step ​2: Provide Free Mini Courses On YouTube
Making a ​mini-course that's available for free to the public is one option that could really help build an audience of YouTube subscribers.
But if you're putting your courses up on YouTube for free hoping that you'll get rich off of the ad revenue, then think again.
A YouTuber only earns about $1 to $2 for every 1,000 video views.
While making $1,000 of ad revenue from 500,000 views might seem good, you can make a lot more money by providing your course in a different way.
YouTube is great for exposure, but you shouldn't rely on your earnings from ad revenue on the platform - just think of them as a nice little bonus to your main course sales and other income.

​How To Use Free YouTube Videos To Sell Online Courses

​Instead of making money from YouTube with Ads, here's a better way to monetize your YouTube channel:
​Put out high value videos for free on YouTube about topics related to what you want to teach in an online course

Tell people to come over to your website and join your email list for more high value free content

Create a free mini course and email this to your subscribers over a series of 5-7 emails (the lessons could just be an organised selection of your best YouTube videos)

After the free email course, pitch your paid course and describe the benefits and additional value of joining your program.
​If you don't have your course made yet, then just follow steps 1-3 and gather an list of interested people for when you're ready to launch your course.
You'll make so much more money like this. Some YouTubers make $50k a month using this model!
-> Check out my article: How Much Can You Make Selling Online Courses

Step ​3: Ask The Experts
Do interviews with experts and industry leaders. It's another great way to build credibility and authority in your niche.
It will also bring relavent subscribers from their channel over to yours, enabling you to reach your audience on YouTube where they already hang out.

Reach out to other people in your niche and see if they'd be willing to do a video podcast with you, or even just chat on Skype or Q&A session for 10 or 15 minutes.
Most will be glad to help out and gain some free publicity. I'd recommend starting with smaller people in the industry around a similar channel size to your own.
If your YouTube channel has less than 1,000 subscribers, don't expect that someone with a million subscribers will want to talk to you even if you're willing to plug their channel or book.
Be sure to structure your interview in a way that provides value to your viewers, and pick a topic that is likely to attract lots of searches and attention.
Step ​4: Include A Call To Action In Your Videos
Far too often I see course creators with amazing YouTube channels and products ​but who are too afraid to plug their course in videos, for fear of being seen as overly focuse​d on sales.
There's a definite balance you want to achieve. People will get turned off if you're constantly just making videos to try and sell your course.
But if you provide someone with 10-15 minutes of solid value, there's nothing wrong with then asking ​them to join your email list or come and visit your website.
​Include a call-to-action like this in both the video itself and also in the video description underneath.
Including a casual mention of your website and the products you offer there should be as natural as asking your viewers to like and subscribe if they are enjoying your content.
Be clear about what kind of value and extra content they'll get if they visit your website. Be sure to use a concise URL so that people won't get lost along the way, or simply ask them to follow the link in the description below.
Highly Recommended
Teachable
​Teachable is one of our favorite all-round platforms for creating & selling beautiful online courses. Transform your experience and know-how into a thriving knowledge business. ​
Step ​5: Optimiz​e For YouTube SEO
Just like a blog or a website, people will be able to find your videos on YouTube ​if you do some basic SEO optimization for your videos.
If you make a video with a name like "How to eat an orange without getting your hands dirty", people are much more likely to have your video end up in search results than if you just called it "orange.mp4." And yes, I've seen people just upload their videos and leave it with the default filename as the video title.
​With every video you upload, take the time to:
​use a relevant title that you think people would natu​rally be searching for

write a ​good description for your video giving an overview of what the video is about and include any keywords people might search to find related content
​include as many related tags as you can think of, to further maximize your chance of your video showing up in searches

Add a nice thumbnail that entices people to click through to your video. Watch this video from Sean at Video Influencers explaining the importance of good thumbnails and how to create them easily for yourself:

Don't forget, of course, to include any relevant links to your website or online course that you may have mentioned in ​each video as well.

Step ​6: Consistency Is Key
YouTube is one platform that really puts a lot of importance on consistent content.
If you upload content regularly, YouTube's algorithms will recognize that and start to reward you by promoting your channel more.
If you upload sporadically whenever you feel like it, YouTube won't give as much authority to your channel.
For that reason I'd recommend publishing videos on a schedule. When you upload videos, you can choose an exact time and date that your video will go live on the site. I'd recommend scheduling at least one new video per week. More is even better if you can keep up with it.
But even if you just upload one video every Monday at 9 am, it will show YouTube that you're serious and consistent about making videos.
That will get your videos suggested in the sidebar and on peoples personalized recommended video feeds more frequently.
This, in turn, will create more YouTube views & subscribers, and more clicks through to your website, email list and online courses.
Step ​7: Create Authority
Visually brand your channel consistently to make people view you as a trusted source.
People will naturally trust and recognize your videos if they start with a professional intro and and always uses the same color scheme and style in your video thumbnails.
A little attention to detail including a high-quality channel header image, professional ​logo, and adding an 'About' section to your channel with relevant keywords and information will go a long way, and it should only take you an hour or two ​to set up.
You can get a freelancer off of Fiverr or ​Upwork to create you a video intro, logo, channel​l header design and do your video thumbnails if you're not skilled at doing this kind of stuff yourself.

Anything you can do to make your YouTube channel distinct and memorable will help build authority.
Step ​8: Build A Community
YouTube subscribers are a great start, but why not leverage that into something more?
You can start by just being active in the comments section of your videos, answering questions and showing that you care about your viewers.

You could also offer your YouTube subscribers other ways to keep in touch with you.
You might want to make a Facebook group, let them know where they can interact and follow you on Twitter, or create a free chat group using applications like Discord.
YouTube Live now gives you a chance to live stream video, which can be a great opportunity to further build community and talk to your viewers one on one.
This can give you a whole other level of insight into what they are looking for, and gives you potential ideas for future online courses you can create.
Don't be afraid to use these other platforms to further drive people toward buying your online course. And don't invest 100% of your effort into YouTube. If the platform suddenly disappears tomorrow, you should have other ways to still drive traffic to your online courses.
For this reason and many others, you should always be trying to move your viewers over to your email list in particular.
​You should always be trying to move your viewers over to your email list
​Step ​9: Get ​Influencers To Talk About You
I'm not necessarily talking about YouTube drama, although that's certainly one way to build up publicity too.
You can create an affiliate program for your course, and then get other big YouTube influencers and experts in your area to make their own videos reviewing your course or giving their opinions about it.
Since they'll get a cut from any people they drive to your courses, they have a really strong incentive to make a positive review for you.
Having affiliates make YouTube reviews about your online course is like having a whole sales team working to promote your products.
​Step 1​0​: Convert People
​It's really important that when you direct people from your YouTube video to ​your website ​that you have a good online course sales funnel ​set up to convert once they click through.
Make a dedicated landing page for YouTube visitors that has been optimized for conversion.
You might want to provide several options for people once they click through. If they don't want to buy your online course right away, give them a chance to get something free in exchange for their email.
Some people who click through to your online course from your videos might have just found out about you, and it might take a bit before they warm up to giving you their credit card number.
In that case you'll want a strong and automated email campaign to continue following up with them.
Offering free trials in exchange for emails could be a great way to convert people. Perhaps make the first one or two lessons in your course free so they can see exactly what you're selling, but make them give you their email first.
The key here, is to step back and think about the journey of your YouTube viewers. You want to make it super simple and valuable for them to join your email list and learn with you in more detail.
You should be able to convert between 10-50% of the traffic that comes from your YouTube videos to your website on to your email list. Any less than this and you know there's room for improvement.

Examples of You​Tubers Who Have Created Successful Online Courses
​Alex Becker
Alex Becker is a tech entrepreneur with multiple 7 and 8 figure businesses. He heavily uses YouTube videos and advertising to drive people toward his online training programs and books that teach people how to run their own online businesses.
He has a YouTube channel with 350,000 subscribers and an estimated net worth of $15 million.
Tai Lopez
If you've used YouTube much at all, you probably know Tai Lopez as the "here in my garage" guy. His advertisements have gone viral multiple times.
Love him or hate him, Tai is one of the leading internet marketers out there. His courses range from $50 per month to thousands of dollars and provide high quality using hundreds of hours of video, downloadable workbooks, exclusive Facebook groups, and more.
Tai Lopez has over a million YouTube subscribers and an estimated net worth of at least $5 million.
Kristina Bucaram
The You tuber FullyRawKristina is one of the most popular and well-known vegans on the platform with over a million subscribers.
She sells her own programs and courses on her website including a 21 day fully raw vegan challenge, a juice cleanse program, and collections of recipes. She also has her own iPhone app and hosts vegan retreats around the world in places like Costa Rica and Indonesia.
Kristina shows that you can make a great living doing what you love and sharing what you believe with the world. You don't need to be a sleazy internet marketer to become a millionaire online, you can do it while still having integrity and supporting your favorite social causes!
Jeff Cavaliere
Jeff is the creator of the massively successful Athlean-X YouTube channel which has over 6.5 million subscribers.
This YouTube channel is devoted to workouts, nutrition, and supplement advice.
By offering hundreds of free videos with workout tips and lots of other useful information, Jeff has been able to create a huge health empire for himself.
On his website he sells a wide range of online training courses for burning fat, building muscle, and more. He also sells a whole selection of supplements and gear.
His business shows how someone can easily go from a personal trainer working at a gym and making $30,000 per year to having a multi-million dollar business from courses alone.
Justin Sandercoe
Justin is a UK based guitarist whose JustinGuitar YouTube channel has 900,000 subscribers and whose website justinguitar.com offers one of the leading series of guitar courses online.
The amazing part? All of the lessons from beginner to intermediate to advanced on justinguitar.com are all completely free! The site does offer a paid music theory course, but you can learn everything you need to become amazing at the guitar from the site without spending a penny.
That just goes to show you it's totally possible to make a living from hundreds of online lessons and thousands of hours of video even if they're totally free, just by using ads and other monetization methods.
However, Justin could probably earning even more if he put out his beginner lessons on YouTube for free and then packaged his more advanced lessons up into a paid online course.

​Conclusion: ​You​Tube Is A Long-Term But Very Worthwhile Strategy
Making YouTube videos that get tons of views is a long term process, just like starting a blog.
You won't see​ big results for a while unless you're lucky. But if you have faith in the platform and put in the hard work and patience, you'll see results in the long run.
For most people, it feels like they're making dozens of YouTube videos to nobody for weeks or months.
Then suddenly the YouTube algorithms will pick up on your channel and your videos will explode in traffic ​very quickly.
Don't get disheartened if you aren't getting any YouTube views early on. Just focus on providing great content and ​keep going with until you hit that growth phase.

Once you have this established it will provide an ongoing evergreen stream of free and very relavent leads to your online course sales funnel (something that you might otherwise have to pay thousands of dollars for in ad costs ​each year!).
HIGHLY RECOMMENDED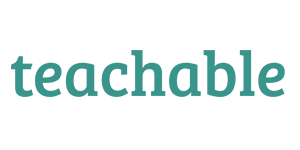 Create and sell beautiful online courses
Flexible & low cost pricing options
Simple to get started with
Comprehensive knowledge base articles
no, thanks
Teachable
 is the easiest way to
create
and
sell
 online courses